Streethockey World Junior Championships 2020

Streethockey World Junior Championships 2020
News Report
Kickoff for the Junior World Championship in ball hockey in the Valais
11/16/19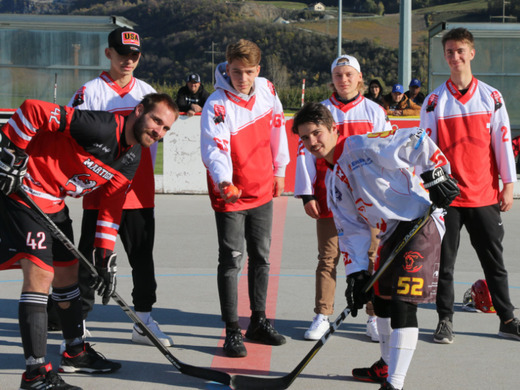 Switzerland will compete with various national teams and will play in two recently constructed arenas, the LONZA Arena in Visp and the Raiffeisen Arena in Raron. This afternoon's national league A derby between the two clubs from the Valais, the Sierre Lions and the SHC Martigny offers the perfect stage to hold the kickoff event for this WC.

Heavily contested duels on a hard concrete or asphalt surface, players in running shoes, protected by ice hockey gloves and an ice hockey helmet chasing a hard plastic ball. Ball hockey, plaid with five runners and one goalkeeper, guarantees pure emotions. Celebrating goals, watching hard- fought duels and spectacular plays like in the upcoming derby between the Sierre Lions and the SHC Martigny, this is exactly what sports fans can expect next summer in the recently constructed arenas in Visp and Raron.

The anticipation for this world class tournament is huge. "Hosting the junior WC is an enormous opportunity for the further development of our great sport. It gives these two teams of highly talented young players as well as the whole Swiss ball hockey family the unique opportunity to experience together something unforgettable", says Stefan Kunz, president of Swiss Streethockey. Viktor Borter and René Dirren, the two co-presidents of the organizing committee, are looking forward to this big sport event as well. For them, hosting the U18 and the U20 world championship is the best thing that could happen. "The youth is our future, our most important asset. And therefore we are extremely motivated to be part of this great project", they state.

The participants field will be completed over the weeks to come. We already know that Switzerland as well as the ball hockey powerhouses Canada, USA, Czech Republic, Slovakia and Great Britain will compete for gold. The ball hockey junior world championship is taking place every second year. A minimum of 600 players and officials are expected. And there will be the fan communities. The logistic support for the teams, creating an unforgettable moment for the players and the fans has the upmost priority for the organizing committee.

Further information for media

You consider writing a report on a club or you wish to establish a portrait on one of the young Swiss national team players? We are happy to facilitate a contact.

Contacts

Nathalie Rochat, head of communications +41 79 594 61 67
Simon Kalbermatten, responsible for regional media +41 79 615 95 50